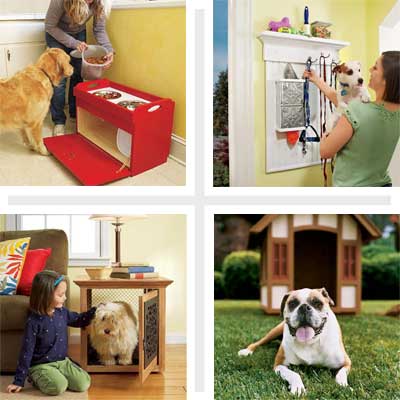 Pittsburgh is a great place for animal-lovers, and Paragon knows that they are important members of the family.
Owning a pet can be a rewarding and enriching experience — but sometimes, just sometimes, they can … well … practically destroy our homes.
That doesn't have to be the case, though. In fact, you can have a house that's both chic and pet-friendly with these tips for functionality and fabulosity as a pet owner.
Here are some ways to make yours a pet-friendly home:
Get your dog or cat their own bed. You can find pet beds that are stylish and comfortable, and that won't be an eyesore. Giving them their own spot may also prevent pet hair in your bed or on your living room furniture.
Better Homes and Gardens suggests building a "pet den,"  stating: "Dogs do very well in crates or cozy closed-in spaces. The way you feel in your den is the way your dog feels in his crate: safe and relaxed. Push the crate under a table in a kitchen nook or in the basement—or build a little pet hideaway—and it won't fight with your decor."
Chic storage. Use a pretty basket or a cute bin to store pet toys.
Store smart. Keep glass vases, picture frames, and collectibles away from your pets. Be logical. An antique vase on the coffee table that your cat walks all over or a valuable sculpture that your Great Dane can knock over with the swipe of his tail isn't smart storage or display.
Go natural. Opt for cleaners that have minimal or no chemicals. Try vinegar and water or all-natural cleaners instead of bleach.

Scratching posts. If you have a cat, buy a scratching post so that they don't shred your furniture. In the meantime, aluminum foil on no-scratch-zones is a good way to discourage clawing.

Built-in pet dishes. Did you know that you can build your dog or cat's food bowls into a drawer? Smart and less clutter!
Be cautious. Do your homework and research if houseplants and plants/flowers in your yard are poisonous to your pet.
Cut the cord. Hide or cut cords and tassels that hang from blinds, curtains, drapes, and blankets. Your dog or cat could get tangled up and put themselves in a dangerous position.
Make sure windows are secure. You don't want your dog or cat leaping out an open window or jumping through a screen.
Build an attractive dog gate. A custom dog gate that you build yourself will match your home decor and look nicer than most sold at pet stores or chain retailers — plus, it may be more sturdy, too.
… or build an attractive crate. Who says dog crates have to be ugly metal and wire?
Build a pet agility course in your backyard. It's fun for them, exercise for you both, and a great chance for you to bond!
Fence your yard. A fenced-in yard is a great option for pet owners.
Vacuum regularly to sweep up that pet hair.
Bathe and groom your pet regularly to help prevent shedding and odor.
Choose furniture wisely. Stain-resistant fabrics and material to which pet hair won't cling are a great option!
Can you think of any other ways to make your home a pet-friendly household?